Polyurethane Foam Moulders
To create the finest, flexible, structural and rigid polyurethane foam products, work with the experts at Mewett Polyurethane Ltd, polyurethane foam product manufacturers who use the magic of Polyurethane moulding process to give you the quality results you need.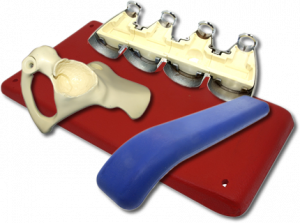 Flexible, rigid and structural polyurethane foam products are smart and versatile, available in a wide range of densities, strengths and colours. They can take on many roles, either as products in their own right, or as part of a more complex assembly.
Polyurethane Foam Moulding Specialists
With years of experience in foam moulding, we handle small and large scale production in our modern Kent factory, manufacturing bespoke foam moulding to customer specifications. We also make a range of superb polyurethane hand tools for the construction industry.
Our specialist custom-moulding team works across all market sectors. So if you need moulded foam components or entire items, for a national or global market, talk to us first. Together, we can mould the future…
When you work with Mewett Polyurethane Foam…
…specialist advice and consultancy is built-in, right from the start. Our expertise ranges from technical advice to full product development. You'll have the very best help and support, from first discussion to finishing and final delivery. We'd love to hear your ideas, so visit our project page.
We focus on quality……
….and we commit to providing the highest quality product in the most cost effective manner. Our aim and long term commitment to the environment is to manufacture for our clients in the most eco-friendly way available to us. By combining an environmentally friendly focus across our site, in conjunction with a minimal waste policy, we believe we provide the most eco-aware products that we can.
Today, your customers and end-users want to know more about products and their effect on the planet. Being eco-aware is socially responsible and makes good business sense.
So we invest in research and development, to ensure our systems and materials have the least possible impact on the environment. Contact us for more information.
Antimicrobial agents……
….that kill microorganisms or inhibit their growth can be included in the manufacturing process and we have the ability to manufacture products of this nature. This is an exciting development primarily aimed at the health and medicinal related markets, but is a process that can be included in a multitude of products.